Book by Hugh Wheeler
Music & Lyrics by Stephen Sondheim
adapted from the play by Edward Bond
INFO:
Opened at the Uris Theatre    March 1, 1979     557 performances (often revived)
Original Director: Harold Prince
Original Choreographer: Larry Fuller
Original Producer: Harold Prince
Original Leads: Sweeney: Len Cariou   Mrs. Lovettt: Angela Lansbury   Anthony: Victor Garber   Johanna: Sarah Rice
Cast Size: Male: 6    Female: 3    Ensemble: at least 12-16    Total Cast Size: At least 21, more if possible.
Orchestra: 26, and alternate orchestrations for 15, and 9.
Published Script: Applause
Production Rights: MTI (Music Theater International)
Recordings: Several, the two-album original cast album in excellent.
Film: With Johnny Depp, Directed by Tim Burton, just okay. I like the play much better.
Other shows by the authors: West Side Story, Gypsy, A Funny Thing Happened On The Way To The Forum, Anyone Can Whistle, Company, Follies, A Little Night Music, Pacific Overtures, Merrily We Roll Along, Into The Woods, Sunday In The Park With George, Passion, Assassins
Awards: Nominated for 9 Tony Awards, won 8, including Best Musical, Best Book, Best Score, Best Leading Actress and Actor (Lansbury, Cariou), Director (Prince).
WHO SHOULD DO THIS SHOW:
Quite a large show, requiring many legit voices. I've seen it done well enough in Little Theater, but it did lack a sense of location and the era in which the tale takes place, without real sets. This show needs some sense of time and place, and these need to be established quickly. And few Little Theaters or Dinner Theaters, even Stock Companies, have the resources.
A show that opera companies, large pro regional houses, colleges and universities might consider. Certainly Broadway fare for pro producers.
Be Warned:
Well, it's a Musical about a barber who cuts the throats of customers, and a woman who then cuts the bodies up and pops them into pies.  That people then eat.   That is clearly not going to be for every performance group, or every audience. Utterly inappropriate for kids, High Schools.
Also, a deeply complex score that really would be hard for an inexperienced company to pull off well.
I would imagine the rights to Sweeney are sometimes restricted by professional productions. You will want to check on its availability in your area before getting too excited.
THE STORY:
ACT ONE: London, the Industrial age, smoke-belching factories, a rigid and powerful aristocracy, and extreme poverty. Two gravediggers dig a hole, and we are told "The Ballad of Sweeney Todd", the tale of a murdering barber. How does the tale end? That's the play, as Sweeney himself informs us, rising from the grave.
A small boat. On it are Sweeney and a young sailor, Anthony. Anthony has sailed the world, beheld its wonders, but to him, there's "No Place Like London". Todd agrees, there is no place so black and vile as London. Anthony has saved Todd's life (at sea, apparently). Docked, Todd is approached by a Beggar woman, who at first asks for alms, and then goes mad and demands sex. She looks at Todd, and wonders in her madness if she knows him. He sends her off with a shout. Anthony wonders at his anger toward a mad Beggar Woman. Todd explains that once, there was a barber and his wife, and she was beautiful. Another man saw her beauty and using the law, removed the barber. He never knew what happened to the young wife. The two men go their separate ways.
Mrs. Lovett's pie shop, below an empty apartment. She is flicking flies from pies with a dirty rag. Todd passes, seems to remember something, and enters her shop. She's stunned to see a customer, and begs him to try her pies, though they are "The Worst Pies In London", some apparently made of cat. When she can catch one. (Great number, very funny.) Todd asks her about the room above, and she tells him the same story, about the barber and his wife. Her version ("Poor Thing") is appreciative of the barber, he was "beautiful." His name was Benjamin Barker. She tells the rest of the tale. A Judge, Turpin, and his cohort, Beadle Bamford, got Barker shipped off south to prison, leaving his wife and a one year-old daughter, Johanna. Then Turpin asked the wife to his place, feeling "guilty" over Barker's plight. The man abused her, and she went mad. Todd is furious, and asks if anyone would take pity on her, and it's hen that Mrs. Lovett recognizes him. Todd is Benjamin Barker.
Todd vows revenge on the judge and Beadle. Mrs. Lovett has a gift for him. She has saved his razors, all these years. "You can be a barber again." The razors are silver, and Todd welcomes back into his hand "My Friends", promising they shall drip precious rubies. He declares, "at last, my arm in complete again," as the company sings a reprise of the opening, egging Sweeney on.
In the dark, a bird's trilling is heard. Lights rise on Judge Turpin's house. Under the window, a bird seller sells the bird, caught in a strange wicker cage. A beautiful young woman, Johanna, looks down at the bird and compares her own life to its. ("Green Finch And Linnet Bird") Like the bird, it appears she is a captive, and cannot fly, though she may sing. Anthony is under the window too, watching secretly and in live with Johanna, though they have not spoken. ("Ah, Miss") The Beggar Woman appears, thrusting her bowl at Anthony. He asks her if she knows the young girl who lives in this building. The Beggar Woman names her Johanna, the judge's ward, but warns Anthony to stay away from the Judge. She then goes mad, demanding sex again. Anthony sends her away. Now he knows the woman he loves is named "Johanna".
A marketplace. A huckster, Tobias (Toby) gathers suckers…er customers, to watcbuy a hair restorative liquid made by his master, Pirelli, an Italian who claims to be "the king of barbers." ("Pirelli's Magical Elixir") Sweeney gets some, and declares it's "piss with ink." She and Lovett work together, calling out Pirelli and inflaming the crowd. Enter the flamboyant Italian. He confronts Todd, who challenges Pirelli to a contest shaving a man quickly and expertly. Beadle Bamford offers to act as judge. "The Contest" proceeds, and while Pirelli is showing off, yaking endlessly about his technique, Sweeney completes a man's shave in a few expert strokes.
Sweeney is now a famed barber, and he sets his plans to catch the judge. He waits for a week for Bamford to show up for a shave, and is impatient. Lovett, who clearly is in love with Todd, advises him to "Wait" and be calm. Anthony then rushes in and informs Todd that he's in love, and she's dropped a key to him, it is Johanna, Judge Turpin's ward. Lovett and Todd tell Anthony to bring the girl here, to fleet street.
Pirelli shows up with Tobias at Todd's shop. The man had worked for Barker years ago, now recognizes him, and intends to blackmail Sweeney. Sweeney strangles the man, and hides the body as Toby enters. Sweeney promises Toby another of Mrs. Lovett's pies, and gets rid of hi. Then he opens the trunk where Pirelli is hidden, and slices the man's throat.
(This next scene is generally cut.) Judge Turpin, in his robe and Bible in hand, beats himself and cries "mea culpa" every time he has carnal thoughts about Johanna, his "pretty little ward." ("Johanna") He is clearly psycho, dangerous. (That's it for the scene.)
Anthony is in Johanna's room, the next day. She tells him the Judge plans to marry her Monday, and she will kill herself. He plans her escape for that night and a marriage on Sunday while begging her to "Kiss Me". The Beadle and Judge stroll toward the Judge's house. The Judge is surprised Johanna has shown reluctance to be with him, and the Beadle points out that "Ladies In Their Sensitivities" prefer clean shaven men, and proposes a trip to his newly discovered barber, Todd.
Tobias now works for Mrs. Lovett in her pie shop. Sweeney is cleaning his razors, and explains to Mrs. Lovett why he killed Pirelli. They are interrupted by the Judge. He wants a shave, Sweeney is only too willing to oblige. But he has taken Mrs. Lovett's advice to heart to wait, and so as he first places the razor to Turpin's throat…the man starts to receive the closest (but safest) shave (at first) he ever received. The Judge explains he's there because he's in love, and as Sweeney shaves and every stroke could be the last of Turpin's life, they sing a hymn to "Pretty Women", the very reason the Judge is about to die. But then, Anthony hurries in the update Todd, and the Judge sees the man who is trying to steal Johanna from him. He knocks the razor from Todd and hurries out, thanking God and vowing that Anthony (the only sane person in the show) will not corrupt Johanna.
Sweeney furiously kicks Anthony out, and Lovett rushes in, having heard the shouts. Todd is furious he waited. He has an "Epiphany", in which he decides he will someday get the judge back into his chair, but in the meantime, he will practice on "less honorable throats." Lovett thinks that's all fine, but what will they do with Pirelli's body? Sweeney plans to bury him after dark. But Mrs. Lovett thinks that's an awful waste. And since Todd is going to go on a killing spree, and she makes meat pies, and meat is so hard to come by nowadays, well, she can think of a better way to make use of the corpses. Todd loves the idea, and they celebrate together their plans for priests, fops, shepherds and others. They plan to serve anyone to anyone. ("A Little Priest", one of the darkest and funniest songs ever written.)
ACT TWO: Mrs. Lovett's pie shop is a huge success, and she keeps Toby running for more pies. (God, That's Good". When she sees a man headed upstairs for a shave, it's fresh supplies! Sweeney kills them, and has rigged a contraption where he pulls a lever on the barber chair, a trap door open under it and the body slides down into Lovett's basement where she has an oven waiting.
Anthony searches the streets of London for where Turpin has placed Johanna. Todd practices on less honorable throats while daydreaming about his daughter, and whether or not she looks like her mothers. The Beggar woman sees the smoke rising from Mrs. Lovett's chimney and announces to the world that the "city's on fire", and that the smoke is a "sign of the devil." She's mad, and ignored. Mr's Lovett wants a vacation with Todd "By The Sea".
But Anthony again rushes in to announce that Johanna has been placed in a madhouse. Todd is thrilled. The madhouse is where wigmakers get the hair they need, and Johanna's is beautiful. He teaches Anthony the ins and outs of hair, in which Toff has considerable expertise, and sends him to the madhouse to break Johanna out and bring her to Lovett's. ("Wigmaker Sequence") Then, the next step of his plan. He writes Turpin and tells him that "the sailor" has discovered where Johanna was "so wisely confined", and helped her escape. He tells the judge to hurry to the barbershop where she will be waiting for him. ("The Letter")
Tobias and Mrs. Lovett have grown close, like mother and son, and she shows him how to grind the meat just so. (He has no idea what he's grinding.) Toby let's her know in a subtle way that he does not trust Todd, but that nothing will harm her, "Not While I'm Around". She can see that Toby has figuired out what happened to Pirelli. Beadle Bamford stops by, singing happily, various local songs. But he's there because there have been complaints about the stink from her chimney. He wants to investigate her basement. She says Todd has the key. The Beadle decides to wait, and sings happily, as Tobias grinds meat in the cellar, alone, grinding three times, as he's been told.
Lovett speaks privately to Todd and explains the situation. She suggests to Bamford he allow Todd to shave and freshen him up. Todd does his work, and the body is deposited to the basement, where Toby sees it and is horrified. Anthony is at the mad house, but Johanna cries his name when she sees him. Anthony can't bring himself to shoot the proprietor, but Johanna can, and they race out, followed by the freed lunatics. On the street, the lunatics cry out "City On Fire". As Johanna and Anthony run from the law, she chats madly about their upcoming nuptial. She has seemingly lost her mind in the madhouse.
In Sweeney's barbershop, Johanna and Anthony wait for Todd. She is now dressed as a boy, a sailor. They will escape England to go to France, that's the plan. Anthony hurries out to find Todd. Johanna approaches the barber chair, fascinated. She sits, is about to pull the lever, when the Beggar woman approaches, singing a mad song about the Beadle. Johanna hides in the trunk where Todd had hid Pirelli. Sweeney enters to find the Beggar woman in his shop, even as the judge rings the bell downstairs. Out of time, he slices the woman's throat and chutes her to the basement.
The Judge enters and demands Johanna. Todd says she's waiting…but that the judge could use a shave. The reprise "Pretty women". The judge commends Todd on being a fellow spirit. Todd says "with fellow tastes in women, at least." He reveals himself as Barker, the man Judge Turpin sent away so he could have at his wife, and then slices the Judge's throat. Todd retires his razors.
Below, in the bakehouse/cellar, Mrs. Lovett cries out, as the Judge is still twitching. Then she sees the body of the Beggar Woman, and cries out anew, and for a new reason. Todd joins her, and he moves toward the corpse of the Beggar Woman. Terrified, Mrs. Lovett admits that the Beggar Woman was Lucy, Barker's long-lost wife, and that she knew all along. Todd, insane, dances with Lovett and pushes her into her oven. He hovers over his dead wife's body, in misery, as Toby, hair white and now mad, approaches Todd and slices the man's throat. He dies atop his wife's body. Again, the company sing the "Ballad of Sweeney Todd", as Todd and Lovett rise from their graves to let the audience know that anyone they know could be Sweeney Todd.
THE SONGS:
"The Ballad of Sweeney Todd", "No Place Like London", "The Worst Pies In London", "Poor Thing","My Friends", "Green Finch and Linnet Bird", "Ah, Miss", "Johanna", "Pirelli's Miracle Elixir", "The Contest", "Wait", "Johanna" (Judge's version),"Kiss Me", "Ladies In Their Sensitivities", "Pretty Women", "Epiphany", "A Little Priest", "God, That's Good", "By The Sea", "Wigmaker Sequence", "The Letter", "City On Fire", "Not While I'm Around"
Hits include "Johanna", "Not While I'm Around". The score is generally brilliant.
MY OPINIONS:
These are my opinions, as it says. Feel free to disagree with them, and ignore them, but if you do read this part and disapprove, put the razor down before you come looking for me.
Sweeney is a brilliant work. The music and the lyrics are the product of a brilliant mind, perhaps the most intelligent and clever lyricist the Musical Theater has ever had. The book, what little of it there is as the show is nearly an opera, is tight, constructed well, the dialogue all works. It is an extraordinarily clever and well-written piece.
But I don't believe it works for most audiences. And though I deeply admire it's craft and the power of the music, which is undeniable, I think the show is not a healthy one for the theater. Let me explain. I attended a performance of Harold Prince's remarkable initial production, after studying the album, memorizing every word and note of the score. I felt that I understood the show well, so I decided to spend a lot of the evening watching the audience instead of the show. They taught me a lesson about this show, and shows that are like it. (Wait for it…) because the audience clearly did not get that this show is comic at its heart, Grand Guignol with a fierce leer. They finally did catch up to this fact at the very end of Act I, with "A Little Priest". And then the laughs were contained, nervous, embarrassed. Because the audience had been made fools of. They had taken this very dark show seriously, as it generally appears to want to be taken, except when Mrs. Lovett is on, and even then at times.
Now, I knew it was a comedy because I'd studied it. But audiences don't study shows before seeing them, not should they. This was on a Saturday night, to a full house. The audience was awake and ready. But they were made to feel intellectually inferior by the show, which I feel happens with a number of Mr. Sondheim's efforts.
Prince's production was especially dark, and that may have had something to do with it. The looming grid-work of iron that endlessly reminded us we were in Victorian London, a London suffering agonies of growing pains from the Industrial Revolution, never allowed us to accept the comedy simply as comedy. But remove the set, as a production I saw in a very small Little Theater, on a nearly bare stage…and the result is the same! Sorry, folks, I've seen it numerous times, with numerous productions. This show puts the audience off, and makes them feel less than they are. And I believe a lot of those folks never see another Musical. This is my big disagreement with Mr. Sondheim's general approach to theater.
It is not at all necessary to write down to an audience. There are many smart people out there. I do not think Mr. Sondheim or others need to write pablum. The theater needs stretching, airing out, and audiences should often be challenged by what they see. In fact, my favorite shows challenge the audience to genuinely think, feel, and participate. But they do not fool the audience. They do not diminish them, they make the audience fell more alive, more able, more a part of life. That's what all great art should accomplish as an end result. And I do not think Sweeney does this. Quite the opposite, I'm afraid.
BUT…what a brilliantly conceived and executed example of the craft of Musical Theater writing, if you exclude the above objection. Lyrics like these, filled with power, and twists and turns that I personally cannot help smile in wonder at, come around once in a blue moon. Music this powerful and fun, once a decade with luck.
BUT…I maintain my objection with a heavy heart. And yet, I give the show two stars. It is an excellent show in almost every regard, and I know companies will consider it for decades to come. I would like to see a production make it very clear at the top that the show is a very dark comedy, that it will be okay to laugh. I think Sondheim and his collaborators placed "The Worst Pies In London" about ten minutes in to accomplish this. But by that time, the grim realities have settled into the audience's bones. It's too late. Something sly about the presentation of the opening number would have to make it clear that, though this will be grim, it will also be a laugh. Perhaps if Todd's rise from the grave is spectacularly over-the-top, so much so that we can't help but smile?
Sondheim famously had a similar problem with A Funny Thing Happened On The Way To The Forum. The out-of-town audiences were not laughing to what I consider the funniest musical ever written! The great Director/Choreographer, Jerome Robbins, was brought in to look at the show and fix it if he could. He felt that the opening number, a piece called "Love Is In The Air," did not tell the audience that they were about to participate in a wild comedy, and that laughter, not love, was the order of the evening. Sondheim wrote a new opening number, "Comedy Tonight", and the problem was resolved instantly.
I believe that Sweeney shares the same problem Forum had. I believe that if this problem could truly be solved, an audience will derive far more pleasure from the show. If I were directing Sweeney, I think I'd make the solving of this problem my most urgent assignment. Then the dark and the silliness can play side by side the rest of the night, to what I think will be better results.
MY RATING: ** (An excellent show, well worth considering.)
PRODUCTION CONCERNS AND IDEAS:

DIFFICULTY OF MUSIC:
Very difficult, very complex and rich score. It needs utterly expert, almost scholarly musical direction. Voices required except for Mrs. Lovett must be quite strong, and really should be classically trained. This is a dark comic opera for all intents and purposes.
Sweeney – Bass-baritone with excellent strength in mid-range, and powerful emotional expression.
Mrs. Lovett – Mezzo, character voice, good belt, very expressive, comic.
Johanna – Soprano, beautiful and modulated voice capable of great emotional expression, and even chirpiness when called for.
Anthony – Tenor, romantic voice but not cornball romantic.
Judge Turpin- Bass-baritone. Strong belt in mid-range, Good top notes.
Tobias – Tenor, youthful voice, clear, even piercing at times.
Beadle Bamford- Tenor, legit, ringing top notes.
Pirelli – Huge range, to high C. Classical tenor, big belt, big top notes.
Beggar Woman – Soprano.
Ensemble – Legit voices, almost no dance so focus on getting the voices you need, and then on types.
DIFFICULTY OF DANCE, CHOREOGRAPHIC CONCERNS:
No dance as such, but dramatic posing and moving about. The Choreographer on this show will not have much to do. The numbers that might need some help in terms of movement include "The Ballad of Sweeney Todd","Pirelli's Miracle Elixir", "The Contest", "A Little Priest", "God, That's Good", "By The Sea", and "City On Fire".
The movement in this show should always serve the story and the developing characters. It should also be instrumental in developing the mood of the piece…dark, but funny, grim, but just a bit wrong, particularly in numbers like "God, That's Good". Fat, happy Londoners eating pies made of their neighbor's corpses, that kind of thing will need to be funny. And if this show suffers from a lack of anything, it's real laughs. I think many of the numbers that might be assigned to a Choreographer would be the very numbers that should get some laughs. That includes, most particularly, one good laugh on Sweeney's first entrance, in the opening number, which I think would help the show enormously. The opening must present the show as modern Grand Guignol, bloody melodrama way over-the-top. The productions I've seen took the drama far too seriously. Sure, this is a "revenge drama", but Hamlet it ain't. With numbers like "The Worst Pies In London", "Pirelli's Miracle Elixir", "The Contest", "A Little Priest", "God, That's Good", and "By The Sea", clearly Sondheim and his collaborators intended the evening to contain a lot of fun. Let the audience in on that little secret early.
"Pirelli's Miracle Elixir" is almost a side trip, introducing a character needed to tell the tale, but with far more elaboration than would be strictly required. It also introduces young Toby, presenting a boy just trying anything to survive a hostile place and time, and very overwhelmed. Later, when Mrs. Lovett essentially takes him in, it should feel like a safe harbor, a home to him. But the state we first see him in, in this number, is one of chronic fear masked by a thin veneer of false bravado. Also, this story develops story points – Sweeney's expertise as a barber for one, which is extensively (too extensively, or at least it take too long) proven in "The Contest." This is a long number, as is "The Contest." Keep them moving, make the story points very clear.
In "The Contest", Pirelli hogs the attention of the audience, and we easily lose the focus on Sweeney, where it truly belongs. I've never been impressed with this number as far as dramaturgy goes. Try and stage it so we are aware of Sweeney at all times, slowly preparing to take the few strokes which will cleanly shave his customer. Let his slow preparation perhaps at first amuse Pirelli, and then annoy, then anger, and finally panic him. Make it more of a pissing contest with two entrants, rather than a one-man show that has little to do with the story.
"A Little Priest" is a waltz. It invites the two characters on stage to do a victory dance. Because it's a waltz, some of the lyrics race by at an intense rate. Sondheim wisely placed "dead bars" in each section, empty bars to allow the audience to laugh, and catch up. The structure of this song is remarkable, and you'll need to understand it well to make the most of it. It also ends the act, so it needs vitality in execution. It is a raucous celebration of violence and practicality working hand in hand, almost a comment on modern day governance, commerce, and life. This number is, for me, the reason the show exists. Use the dead bars to allow the actors to get their breath, as well.
"God, That's Good" is one of the few genuine ensemble numbers, but it is anchored by Mrs. Lovett, Toby, and Sweeney, our principles. It must successfully re-start the story again, and remind the audience what's going on. And it should be a bit gruesomely funny. The Londoners chowing down should have juices dribbling down their faces, and sing with their mouth's full. It is also a step toward the whole world going mad, which is what the audience should feel has happened at the end of the show. I think the motion should generally feel random rather than coordinated for this number. The world is slipping out of order, not into it.
"By The Sea" is the calm before the storm. A strictly light-weight comic number that I believe needed to be a bit funnier than it is. When a master like Angela Lansbury decides to make a number amusing, it amuses, of course. In lesser hands (which would include almost everyone), this number needs some help, some polite but firm goosing. All this woman wants is Mr. Todd for herself. In her way, she is in love. But I don't believe that precludes the idea that she also fears him on some deep level, and works hard to keep him calm and placated. She is by far the more pragmatic of the two anti-heroes. She senses the train is running away, and this is an effort to get it back on the track before it blows up and takes everyone with it. There is purpose behind the number, that should show up in its staging. Also, though Sweeney is on stage and listening, he's unresponsive. It's all up to her.
"City On Fire" is the explosion of madness that from this point on consumes the characters and play. The comedy now is subsumed by the Grand Guignol and melodramatic aspects of the show. The escape of the lunatics into the street followed by this number is the death knell for our characters, and in a larger context, for modern civilization. If you can run the lunatics into the aisles, and this imply that they ate among the audience, and the audience is among them, you may wish to do it.
CASTING CONCERNS:
Sweeney – In his late 40s-50s. A man tortured by his inability to have protected those he loved, tormented by his ineffectual life, who has gone around the bend of sanity and now has determined to be very effective indeed. Requires an actor who can play huge emotions compellingly, even believably. A large man usually plays the role, an imposing figure in dim light. The hands of an artist. Cast for voice, type, acting, some movement. A star.
Mrs. Lovett – Perhaps slightly younger than Todd. An eminently practical survivor of very hard times. But she has a strong romantic streak, as seen by the fact that she saved Sweeney's razors instead of selling them. And there is kindness in her, oddly enough, in her relationship with Toby. She is essentially a simple woman (sort of) who likes a good song, a good time, and who works hard. And she is utterly lacking in morality. Cast for acting, voice, type, some movement. A star.
Johanna – In her late teens-early twenties. Nervous, anxious, even morose at the start. She longs for freedom, but when she receives it, the cost drives her nearly mad. Should have beautiful blond hair, long. (A wig or fall perhaps.) She should be lovely enough that our sailor falls for her at a distance, seeing her through her window. Cast for voice, type, acting.
Anthony – In his twenties. Earnest, sincere, naïve, youthful and reasonably able, he becomes obsessed with Johanna. Attractive enough. Cast for voice, type, acting.
Judge Turpin- In his 50s-60s. Secretly quite mad with power and lust. A man somewhat dissipated by a stringent life style…he must work constantly to restrict and control his inner demons. A vile man who has taken full advantage of his position to do irreparable harm to others while gratifying his own desires. Cast for voice, acting, type.
Tobias – In his teens (though almost always cast with a mature actor). Fearful, on edge, overwhelmed by life. He clings to the safe harbor that Mrs. Lovett provides like a drowning sailor clings to a log. Cast for type, voice, acting, some movement.
Beadle Bamford – 40s-50s. Fat, pompous, over-estimates his power and his presence. Another example of government gone wrong. A true toady to Turpin, but with his own arrogance. Cast for voice, type, acting.
Pirelli – Ages 40-50. A fake, a charlatan barber. Is he really Italian? It would be funny if he let slip at some point he's cockney, perhaps in private to Todd when he tries to blackmail him. Flamboyant, ridiculously Italian. Cast for voice, accent, type, acting, some movement.
Beggar Woman – At least 40, as old as Todd. Once beautiful, she went mad long ago and has somehow survived the deadly London streets from begging and, well, whatever. Cast for acting, voice, type.
Ensemble – All must sing very well, look like period Londoners, do some mild movement.
SETS:
This show is almost always done on a unit set. The set represents London at the dirty peak of Industrialization. The look is inhuman, dark, iron and smoke. It can be done in an Expressionistic manner effectively, it does not need to be literal.
That said, you need to create several actual "locations." These include, in order, a dock (can be an isolated area with the sound of the Thames river at night, or a lighting effect); Mrs. Lovett's two-story building, the top with the famous barber chair (tucked away at first, or unlit), the main floor, her shop, below, a basement where things get cooked (which can be a separate room rather than "below", though Hell is found below…). And of curse, you'll need to build a trap door under the barber chair and a slide for bodies of once-live actors…(We do not need to see the cellar, you can play most of it in her shop
Then, a window looking out on a street, at the Judge's house. (A free-standing wall with window in it on the second floor for her to look down from will do it.) This could be flown down over the backdrop of Industrial London.
The street where the contest takes place. A streetlamp or two could signify, and be carried on and off, or dropped.
All other "settings" revolve around these. The only real exception is the scene in Bedlam. Women are paraded out for Anthony to review, this could be done ion an isolated light, and the actors can communicate the madness of the place.
The one set should be significant, to include London, Mrs. Lovett's, Turpin's, and the streets of town, as well as the hint of a dock. The original Broadway set was titanic with iron work. You do not need to go there, but something creative and interesting, as well as practical, has to be built.
And there's the famed barber's chair…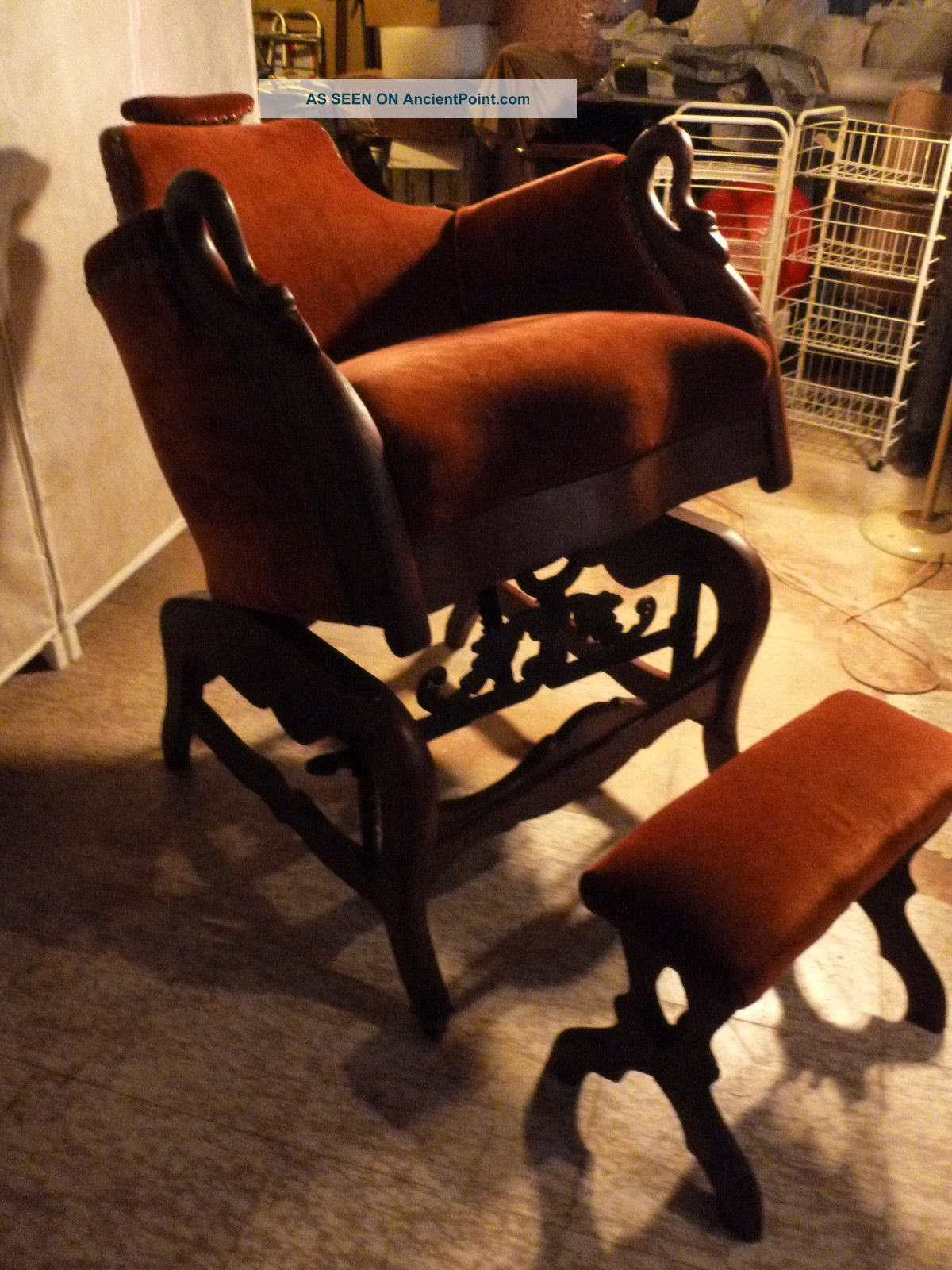 COSTUMES:
In period, so you'll be building or renting. There is a lot of poverty in the story, and we need to see the dirty, distressed clothing that would entail at that time.
Sweeney, when we first see him, has escaped prison. He has stolen ill-fitting clothing, most likely. Later, he dresses better, professionally, as a barber would at that time.
PROPS:
Um, pies. Or should I say "yum, pies!" Tin cups for the unknown liquid used to wash the pies down. Sweeney's "friends," his razors, and other barber stuff like towels. Anthony's sack of personal belongings. A bird in a cage. Pirelli's bottles of elixir. Pirelli's razor. Mrs. Lovett's cooking utensils, and a meat grinder. Meat to grind. Canes for the Judge and Bamford. A Bible for the Judge. Flowers Mrs. Lovett puts out on display. There could be some tricky items.
LIGHTING:
Very important! Moody, while directing attention at all times. And the moods do and must change. Comic numbers must somehow be lit to feel brighter, more accessible. Heavy shadows should fill dangerous streets at night. Perhaps moonlight peeks through the high buildings in some places. A ray of moonlight could illuminate the Beggar Woman, at times.
I think an effect is needed at the opening, when Sweeney raises from the grave. Perhaps he can be silhouetted at first, then under-lighting can gruesomely fill his face with shadows, something along those lines. (Steam can rise from his grave as well…) Repeat the effect at the end, as Lovett and Todd perhaps descend to Hell?
MAKE-UP:
Todd and Mrs. Lovett should look subtly, um, dead, throughout the show. Just slightly skeletal in their make-up. Same with everyone who will be dead at the end. This could be interesting to create.
KEY PERSONNEL (The ones you MUST get right.):
Director, Musical Director, Set Designer, Lighting Designer, Make-Up Designer, Sweeney, Mrs. Lovett
MY THOUGHTS:
Yes, Sweeney Todd is filled with brilliance. But I do believe a rethink is required to make it more transparently comic, and a bit more of an entertainment. The social commentary is built into the story, it will be there, and in fact cannot be removed. It does not require heavy-handed emphasis, as I believe Mr. Prince provided it in it's first Broadway incarnation.
This show is going to see revivals. The two lead roles are simply too juicy for actors to ignore, especially stars. We saw sort of the ultimate silliness of that with Johnny Depp, a talented man, playing Todd, a role he could not be less suited for, in the film version. (Which I found forgettable.) It is a fabled show at this point, beloved by Sondheim fans. I believe it will be around for quite a while. I hope it does not scare too many nice audiences away. I do believe, though, that it will, without an emphasis on the comic elements.