Book by Peter Udell, Philip Rose, James Lee Barrett
Music by Gary Geld
Lyrics Peter Udell
adapted from Barrett's screenplay of the same name.
INFO:
Opened at the Alvin Theatre    January 7, 1975    1,050 performances
Original Director: Philip Rose
Original Choreographer: Robert Tucker
Original Producer: Philip Rose, Gloria & James K. Sher
Original Leads: Charlie: John Cullum    Anne: Donna Theodore    Jenny: Penelope Milford
Cast Size: Male: 11 (plus 2 boys)    Female: 3    Ensemble: at least 8    Total Cast Size: At least 24
Orchestra: 19
Published Script: Samuel French
Production Rights: Samuel French
Recordings: Original Broadway is good, if a bit incomplete. My friend Donna Theodore is wonderful, of course, one of the rare voices of her generation, as is Cullum.
Film: None. (The film it's based on stars Jimmy Stewart.)
Other shows by the authors: Purlie
Awards:6 Tony nominations, won 2 including Best Book, Actor (Cullum). Donna Theodore won the Drama Desk Award.
WHO SHOULD DO THIS SHOW:
A fine show for colleges, universities, regional theaters with resources, and large little theater groups.  Could work for High Schools if they can deal with the violence in the story, and have a very strong singing lead, perhaps an adult as a ringer?
Be Warned:
The show contains a fair amount of violence. One son is knifed to death in front of the audience, and then the killers go to kill his wife. A little boy is hijacked. There's a brawl. If this isn't your audience's thing, skip it.
If you don't have a very strong adult actor with a terrific baritone voice, you can't do this show.
One more thing. This show is fairly political. It insists that the state exists to serve the individual, not the other way around. If you have a problem with that philosophy (and it's a very well-founded philosophy historically), do another show, because this one will anger you.
THE STORY: (Synopsis from The Guide To Musical Theatre, Mort Goode, 1988)
ACT ONE: It is 1862, and the Civil War is raging. In the Shenandoah Valley, in Northwest Virginia, where his farmhouse sits in the middle of the ebb and flow of the fighting, Charlie Anderson, a widower, father of six sons and a daughter, is determined to keep his family out of the action, ready to hold his land and to continue farming. He promises his deceased wife that "our house is going to stand . . . . and our family . . . our blood is going to stay together."
It is Sunday morning. Inside the Anderson house the six sons (the youngest, Robert – called The Boy – is wearing a Confederate cap), daughter Jenny and daughter-in-law Anne, who is pregnant, are arguing vehemently about the pros and cons of the war when Charlie enters. All rise till their father is seated. He offers grace. The children are eager to get back to their argument.
Charlie, hating "a lot of noisy silence," grants permission but expresses the hope that they understand what war is really about. ("I've Heard It All Before")
On their way to church Boy lags behind to meet his best friend, Gabriel, a barefooted black youngster, to plan to go fishing. He joins the others at church where Reverend Byrd urges duty to God, neighbors and the State of Virginia. The congregation sings "Pass The Cross To Me".
While fishing, Boy and Gabriel talk about the service. Gabriel confesses he's never been to church – slave children are not welcome. Boy would willingly change places, but Gabriel has a thought about that: "I don't think you'd be much good at bein' a slave. It takes practice." ("Why Am I Me?")
Charlie and his sons are planning their work schedule when a Confederate patrol arrives to draft the boys. The family grab rifles. The boys are not about to go. Charlie won't permit it and threatens to defend their rights. The patrol gives up the quest; as they move off, John has a thought: "I'll bet if we did get into this war, we'd be hell". ("Next To Lovin' I Like Fightin')
That evening Sam, a young lieutenant in the Confederate army, comes calling on Jenny. After supper she tries to squeeze the will-you-be-mine question out of her stammering beau. She has some news for him. ("Over The Hill") Charlie and Boy, sitting on the porch, have watched the entire scene. Boy isn't quite sure what Sam means by taking the girl of the household away to make a different life for her. Charlie knows that the time has come. ("The Pickers Are Comin')
The next morning a Confederate lieutenant arrives with six men, stating they are Federal purchasing agents, authorized to confiscate the Anderson horses. When Charlie refuses, one of the men infers that the family is "too yellow to fight." The Andersons rise up at the insult. Charlie punches the agent, and they chase the intruders off their land. The entire family is involved in the confrontation. Charlie swears he'll fight any man that gives him provocation, but he's "not about to go out and hunt strangers down to kill em! And that's what war is, boy! Open season on strangers!" The children realize then that they are all Andersons, and are united as a family.
Charlie returns to Martha's grave, to explain his outlook and how difficult it is to stay out of the middle. ("Meditation")
Jenny and Sam's wedding day arrives. Anne attempts to explain the differences between husbands and wives to Jenny. ("We Make A Beautiful Pair") The ceremony takes place in the farmyard, with Rev. Byrd officiating. ("Violets and Silverbells") Just as it ends a Confederate corporal arrives and orders Sam to report for duty without delay. He leaves immediately. At the same time Anne develops labor pains, and Jacob is sent to fetch the doctor. In the parlor the whole family paces nervously, awaiting the birth in an upstairs bedroom. Charlie, playing "heads and tails," is certain "It's A Boy!" Suddenly Gabriel appears to report that Yankees took Boy: he was wearing his little gray cap and they were sure he was a Rebel. Charlie wastes no time. James will stay behind with Anne and the new-born Martha. The Andersons break out rifles, saddlebags and bedrolls, and hitch up their horses to ride in search of Boy.
ACT TWO: Gabriel tells Anne how the Yankees came through, burned down the old plantation and then told him he wasn't slave "inventory" any longer – he was free. He "sure felt different" and has come to say goodbye. ("Freedom") When Gabriel leaves, Anne and James talk about their promise to each other. (Violets and Silverbells" reprise)
James goes out to the well to fetch some water and is accosted by three disreputable-looking scavengers. When they learn that only he and Anne are around, they attack and kill them both.
The rest of the family are miles away, resting by some railroad tracks, weary from the distances they've traveled and all the Yankee camps and train depots they have searched. They haven't found Boy yet, but Charlie won't give up. He is holding up just fine. ("Papa's Gonna Make It All Right")
A prisoner train is stopped, blocked by logs the family have piled up on the tracks. Charlie tells the soldiers to "go back where you belong . . . to your women and children." One of the prisoners is Sam, who is reunited with Jenny. One corporal wonders if the fighting and killing "has all been for nothing." The only thing he's sure of is what's waiting back there. ("The Only Home I Know")
Later that evening a Confederate patrol attacks the family camp and kills Jacob. Without compunction, Charlie shoots the sniper. Then he decides they'll all go home, to bury Jacob near his mother. Reaching the farm, they discover that Anne and James are also dead. Only little Martha is still alive.
Charlie visits his wife's grave once again to try to explain his actions during their search for Boy. It is war, he admits, but "like all wars, the undertakers are winning it." ("Meditation II")
He hears the sound of church bells and realizes it is another Sunday morning. Rev. Byrd is still preaching about the destruction the North is causing. When Charlie and his folks walk in, the minister welcomes them all back. Just then a bedraggled Boy hobbles in. All rejoice . ("Pass The Cross To Me")
THE SONGS:
"Raise the Flag of Dixie" (Prologue), "I've Heard it All Before", "Pass the Cross to Me", "Why Am I Me?", "Next to Lovin' (I Like Fightin')" , "Over the Hill", "The Pickers are Coming", "Next to Lovin' (I Like Fightin')" (Reprise), "Meditation", "We Make a Beautiful Pair," V"iolets and Silverbells", "It's a Boy!", "Freedom" , "Violets and Silverbells" (reprise), "Papa's Gonna Make it Alright", "The Only Home I Know", "The Only Home I Know" (Reprise), "Papa's Gonna Make it Alright" (Reprise), "Meditation II", "Pass the Cross to Me" (Finale)
Hits include "Freedom". But "The Pickers Are Coming" is also a special song.
MY OPINIONS:
Shenandoah has the potential to be a deeply moving show. The sum is, however, greater than the parts. The weakest element of the show are the lyrics, and they are unfortunately sloppy and weak. Udell has a problem with rhymes. Some examples: he rhymes "spice-life", "else-himself", "straw-for" (?!), and "'magination – nation", which is an identity and not a rhyme. Additionally, the lyrics tend toward the sing-songy, a fact the composer works to mitigate. Some of the lyrics are touching, especially for "The Pickers Are Coming", a father's intimate lament over losing his daughter to suitors. But some of the ideas for song are not very strong, and they are redundant. And the best known song in the show, "Freedom", while it could be sung by Anne, would never be sung by the uneducated Gabriel. There's a lot of anti-war rhetoric sung, here. The lyrics are often second rate work.
The music is, on the other hand, often creative, emotional, and impressive. There are plenty of memorable melodies, and energy and emotion inform much of the music of the score. With better lyrics, who knows how fine Mr. Geld's work might have been. As it stands, it is generally effective, and does much to add to the show's power.
The script is the strongest element of the show, though it is not without its difficulties. Adapted from a movie starring Jimmy Stewart, it is a brutal and dark tale in many respects. What starts out as a happy and united family is torn by death, murder and war to a fraction of their former selves. It is a deeply moving story for any American, and for anyone anywhere who has experienced the loss of loved ones, particularly from war. The show is strongly anti-war, and was written at a time when America was just finishing its involvement in Vietnam. As such, it's sentiments were very current to Americans sick of a fruitless war. I can't imagine that the show would not be timely today, and for a long time to come.
The show places two forces head to head – love and family vs war. It could be seen as family and personal rights vs. the state, as well.  This is heady material for a Musical. And the structure of the show doesn't always help it. There are wasted steps in the story telling, particularly in Act I. Too much talk about the war, too many examples of it closing in. And wasted attempts to inject some sort of Musical Comedy sensibility into the piece, as when Jenny sings"Over The Hill," a song Ado Annie might have sung in an earlier show. Another sort-of silly moment is "Next To Lovin' (I Like Fightin')", a fact we see without being told (or sung) it, clearly and far more compellingly in the scene where the family protects itself against the Virginia army come to take away the boys, and which the number in no way clarifies or amplifies. These two songs try to make the piece Musical Comedy-friendly. They fail to do so. They feel out of step with the rest of the show. Should they be cut? Maybe. Depends on whether you can somehow wed them closer to the feel of the show. I don't care for either number, and would cut them given my druthers.
This isn't a Musical Comedy. It was never going to be one. Consider the subject matter! It is at its best when it does not run away from its deeply-felt story, which fortunately is most of the time. I was moved by much of the show. I enjoy how it raises the stakes, though the number of deaths and their occasional brutality is difficult to deal with. The murder of James and Anne is a particularly hard pill to swallow. War and death are seen as not merely cruel, but as arbitrary. And so, truly enough, they are.
This is a fine show, if a dark one, in the Rodgers & Hammerstein/Lerner & Loewe school of musical theater. It is one of the final successful examples of that sort of writing, one of the last hangers-on to face off against Sondheim, Webber and rock music, and succeed. Shenandoah is an emotional experience, and a decent history lesson to boot.
One more thing. I agree with the message that this show works hard to communicate. Like the authors (and the founding fathers of the United States), and though I am a huge fan of President Kennedy, I do not agree that we should ask what we can do for our country – an idea that runs contrary to the entire history of nations and how they came to be, and that has been promoted by big government ever since the first big government came to be. Individuals make great civilizations and great states, not slaves and mindless national sycophants, and this show communicates this idea with strength. This is the greatest lesson of history learned from a life study of history, as the great American historian Will Durant stated in his book, The Lessons Of History. It is the inspired individual, and not a group, that moves civilization forward with new ideas, invention, philosophies and labor. This show provides this message in spades, and for that alone, it's worthy of production.
Maybe some theater company will take it upon itself some day to do a season of American history through the Musical. Start with 1776. Then, Shenandoah. Then Ragtime. Then Street Scene and Rent. I'd attend!
MY RATING: * (A better-than-average and interesting show, right for many groups.)
PRODUCTION CONCERNS AND IDEAS:

DIFFICULTY OF MUSIC:
The music to Shenandoah is interesting. It takes some unusual turns in melody, orchestral harmonies and parts, and rhythm. The score requires a good musician to play it, precise and experienced. Teaching it isn't too hard, though, as there is a scarcity of harmony in the show, and a lot of choral singing where everyone's on the same note, curiously (and lazily) enough. If you have the freedom to do so, add more sung harmonies to your production. And by the way, the "counterpart" at the end of the Prologue ("Raise The Flag of Dixie") is pretty shapeless and inadequate. Do your best to make sure both parts are heard.
Charlie Anderson- Nearly a legit baritone, with a large, emotional belt, some lovely head voice quality, and nice, rolling low notes. The delivery must be true, songs very well known, emotional content used well.
Anne – Requires a real mezzo/alto with a terrific and clear belt, warm and strong, an impressive voice. After Charlie, has the most singing in the show.
Jenny – Alto, a nice country-like quality. Decent belt, fair high notes.
Robert (The Boy)- Young, sings a fair amount, must sing well, with a bit of belt.
Sam – Lyric baritone.
Gabriel – Young, must sing well, a decent belt, some high notes.
James- Traditional lyric baritone, romantic voice, clean and smooth with a ballad.
Jacob- Should have a decent belt, could be tenor or baritone.
Nathan – Should have a decent belt, could be tenor or baritone.
Henry – Should have a decent belt, could be tenor or baritone.
Rev. Byrd – Should sing with the congregation, doesn't need a soloist's voice.
Ensemble – Should sing well when harmonizing.
DIFFICULTY OF DANCE, CHOREOGRAPHIC CONCERNS:
The show needs the energy provided by some Broadway-type period correct (or at least period-suggestive) choreography. The authors seem to have been aware of this fact, and have provided what are unfortunately the shows weakest numbers to fill that bill. These include the opening Prologue, "Raise The Flag of Dixie", "Pass the Cross to Me", and "Next to Lovin' (I Like Fightin')". These are larger ensemble-type numbers in Act I. By Act II, they seem to have quit trying, and they appropriately focus on developing characters and plot.
Other numbers that are smaller and more intimate, and which could benefit from movement rather than dance, include "Why Am I Me?", "Over the Hill", "We Make a Beautiful Pair", "Freedom" , "The Only Home I Know", and "Pass the Cross to Me" (Finale).
"Raise The Flag" is a big number for the men folk, dressed equally in combating blue or gray. It is intended to establish the Civil War mentality, but, um, playfully. Get those two flags a waving. Keep the energy high and maybe your audience won't notice that this is not only not a very strong opening number, but a rather empty-headed and trite way to establish a war that pit brother against brother. If a few out-of-touch southerners cheer for their flag, well, um, there's the proof for in-breeding you were looking for. Me, I'd think about cutting the number and instead, use Charlie's monologue in the midst of it to start the show, just him at Martha's grave stone. No number. It would get rid of what I see as an ineffective start to a show whose second act is stronger than its first.
"Pass The Cross" takes place in Church, and is a company number. Try to avoid stereotypical gospel movement that would not be appropriate for the 1860s. But a congregation coming together in rural America to pray during war can be an emotional thing for the audience and the characters. Create some genuine emotion without going movement crazy.
"Why Am I Me" is a character-driven duet for the two young boys. It should be lightly comic and quizzical. No dance, but maybe a few simple and clever steps – just a few. Let the song and children do the work.
"Next To Lovin'" is 7 Brides For 7 Brothers, part 2. The five sons this time harrumph and swing their fists at the sky and invite a fight if it comes their way. It should be danced, athletic, impressively male. And it should be sort of fun. The lyrics are okay, and will help get a few (very few) laughs. Make it a testosterone fest, over-the-top as such.
"Over The Hill" is Ado Annie, part 2. Yup, a 19 year-old from somewhere in the boonies is whining about being too old to kiss and birth babies. And of course, it's fine if the character sees it that way, but she's going to need to convince the audience that she does. What's more, it needs to get some laughs, or its reason for being goes away. Focus on their ever-stalled relationship in your movement, and on her insistence that things move forward. She can be forward, aggressive enough to discomfort Sam.
"We Make A Beautiful Pair" is about what makes a good marriage, but it's sung by two women, the older teaching the younger. There's no men folk about, so you can't use one as an example, or integrate one of them hairier types into the number. And no, you should not have one of the girls "lead", or take the part of the man in demonstration. Please, no. Keep it simple, sincere, and generous. Don't go for laughs, and don't get into much movement. A little meeting of the minds kind of movement is okay.
And then there's the hit, "Freedom", a celebration of the idea that freedom is found from within, and not granted by others from without. This is a duet that does need a few steps to provide it a sense of physical motion commensurate to the energetic music. But don't get in the way of the singing! And allow the two performers to be "individual", rather than making the one a carbon copy of the other. In fact when one does a step, try having the other do something else, a different step or none, something unique to that character. Maintain the theme, the idea behind this song in your movement. You may even earn a smile or a supportive laugh that way.
The show can use an experienced Choreographer who understand the Agnes de Mille approach to choreography seen in shows like Oklahoma, Carousel, and Bloomer Girl. Stay away from Fosse-inspired Broadway jazz, this ain't that.  Folk, rural and Church-inspired movement, athletic male display, family unity should be the keynote themes.
CASTING CONCERNS: (Partially taken from script, and expanded upon.)
Charlie Anderson- A strong, earthy farmer of about fifty, who rules his large family with authority and tenderness. A man who wants his family left out of the Civil War raging around them, but who is not afraid of a fight to protect his family, and who knows how to swing his fists. Determined, waters that run silent but deep, he's suffered severe loss and has raised his children nearly single-handed for years. Cast for type,voice, acting, in that order. Must be very strong at everything. A star.
Anne – Wife of James, beautiful and mature, twenty-six years old. Perhaps a bit more educated or "civilized" than the rest of the family, so a bit of an outsider, but long since welcomed into the family. Warm, bright, vital and loving, in an established marriage and she knows how to maintain it. Cast for voice, type, acting.
Jenny – A nineteen-year-old daughter, attractive, feminine, who competes with her brothers as equally as with her suitor Knows how to handle a rifle as well as her brothers. Cast for type, acting, voice, some movement.
Robert (The Boy)- The youngest son – twelve years old, a typical country boy. Bright, forward, a fairly typical boy of twelve more interested in fishing than Church. Must have good comic and dramatic timing, a fine actor who sings well.
Sam – Jenny's suitor and later husband, upstanding and shy young Confederate soldier. Awkward around Jenny, almost tongue-tied, and fearful of Charlie. There's something vulnerable about the young man, that makes one wonder if he'll survive the war or his marriage. Cast for acting, voice, type, some movement.
Gabriel – Twelve-year-old Black boy, a slave, charming and friend of Robert. Under-educated but aware, he hears everything, questions everything, has a firm, good heart. Cast for acting, type, voice.
James- Second oldest son, twenty-six, very much his father's son, strong, handsome, and argumentative. Cast for acting, voice, movement, type.
Jacob- Twenty-eight, oldest son very serious and devoted to his father. Cast for acting, voice, type, movement.
Nathan – Twenty-four-year-old son. Cast for acting, voice, type, movement.
Henry – Seventeen year-old son. Cast for acting, voice, type, movement.
Rev. Byrd – In his 40s-50s. A fire-breathing southerner who hates the war, and who uses his pulpit to urge his fellow Virginians to courage. He is not a man without a sense of humor. Firm, strict, but loving. Cast for acting, type, some voice.
Ensemble – Farmers, soldiers on both sides, you'll need a fair number of men vs. women, but there must be enough women left behind. All must sing, move well.
SETS:
Adapted from a movie which had many locations, the sets for Shenandoah can represent some expense and difficulty. The location moves from the rustic but large Anderson farm house, to their fields and barn, to the country roads around the house, to the local Church, etc. You're going to want to come up with a unit set if at all possible, one that can easily and quickly transition from one location to another. I think a set that offers a sense of Virginia at the time, with a large playing area center, would work best. Then you can roll or bring on a large dining table and chairs for the house, pews for the Church (and perhaps lower a large cross and stain-glassed window – and later at the end show that window broken by the war), etc. Roads can be open stage. Place a few wooden fences, suggestions of locations rather than anything solid or literal.
If you present any single setting in a literal manner, you'll need to do them all that way. Once we've seen one set, the audience will want to know where the rest of them went unless they are all equally complete. So I just would not go with any realistic or complete set. Better to have cutaways that lower from the rafters, a log wall here, a fence that rolls on there, a train track projected as a lighting effect on the stage floor for Act II. Allow the actors and script to establish locations along with your suggestive pieces. Make everything rustic, wood, real surfaces and substances from the period.
A job for an experienced and creative set designer. You'll be building everything you need.
COSTUMES:
It's the 1860s. Some of the rural wear might be found in closets or off the rack. Union and Confederate uniforms can almost always be rented in shops, as can the Reverend's costume. Ladies wear dresses, plain and dour. Men, white shirts and jackets, even when working.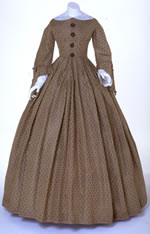 The period is easily researched through photos and paintings. The show calls for an experienced Costume Designer. And remember, Charlie needs to be able to sing a lot, as does Anne. Give them costumes that breathe,
PROPS:
Guns, rifles, lots of them. Food for the table. A Bible in the church, perhaps on a podium. A knife. Logs on the train tracks (though we do not need to see them). Likely to be many props, and they need to be and feel period correct. A job for an experienced Prop Master.
LIGHTING:
There's a lot of music, and some of the songs will call for inner cues. Action will need to be isolated to parts of the stage much of the time. Solos, monologues and duets must be intimate, especially moments when Charlie speaks to his wife at her grave site. Moods are important to this show, and the lighting needs to facilitate them with subtlety. A job for an experienced Lighting Designer.
MAKE-UP:
Unobtrusive always. An easy job. Show the soldiers freed from the train disheveled and dirty.
KEY PERSONNEL (The ones you MUST get right.):
Director, Musical Director, Choreographer, Set Designer, Costume Designer, Charlie
MY THOUGHTS:
Overall, this is a moving and fine show. It is not a masterpiece, but how many musicals are? And it's unusual political stance along with its depiction of a single father uninterested in love, and really only interested in his children, is refreshingly not-Musical-Comedy-Like. The score run hots and cold, and averages out on the nicely warm side. The lead role is a terrific part for a mature actor who can really sing. I think this show is likely to survive, and deserves attention and consideration for production.